Peter Benjamin, Director
For over 30 years, Peter Benjamin, the son of founder Donald Benjamin, has successfully instructed thousands of students in the finer points of social amenities and ballroom dancing in all areas of San Diego, including Coronado.
A lifelong resident of Point Loma, Peter continues to reside in the area with his wife and son. Peter strives to put his students at ease as he provides the tools that will enable your child to act with poise, self-confidence and thoughtfulness.
Peter strongly believes in the development of kindness and graciousness, qualities that are becoming increasingly void in our society today as we are inundated with text messaging, cell phones, social media, emails and other technological advances that seem to make our lives increasingly impersonal.
This is not say that these things do not have their place, as they most certainly do, however the fundamental skills of human interaction remain basic and unchanged.
At every class, Peter reviews and reinforces these highly reliable fundamental skills – lessons that have enriched the lives of thousands of students.
To request an invitation for your child who is entering the sixth grade this coming school year, please fill out this form. For information regarding Mr. Benjamin's cotillion, please contact Peter Benjamin directly at 619.222.3769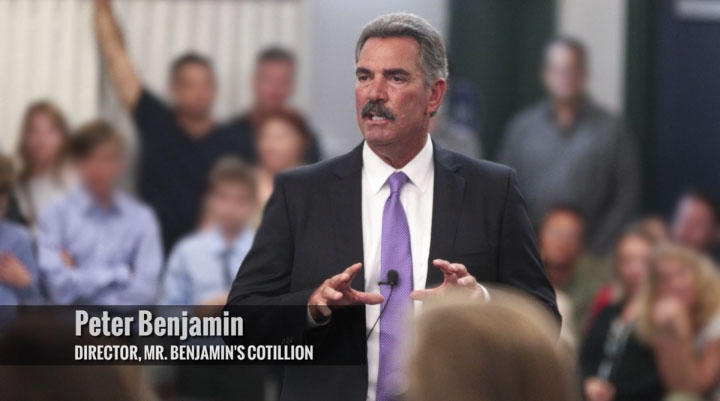 Donald Benjamin, Founder
Donald Benjamin came to the San Diego area from Great Neck, N.Y., to work in public relations. He had a job with the Phillips Ramsey agency and, to make a little extra money to support his young family, he took a second job as a room clerk, three nights a week at the old Hotel Del Mar.
It was 1954 and the hotel, where L'Auberge Del Mar now stands, was on the verge of folding. Searching for something else to augment his income, he thought of dancing lessons. After all, he'd taught his fraternity brothers back at the University of Missouri the necessary steps to impress the young women in their lives.
He went to the principal at Del Mar Elementary. She sent him to Frances Caldwell, head of the PTA, who had a child in sixth grade. Caldwell liked the idea and told him she'd talk it over with other mothers and get back to him. Soon, they had agreed to meet the following Tuesday.
"She had other parents there," he recalls. And they were so eager about the idea that they asked him to convene a class a week from Wednesday. He agreed, even though he had no idea where he would hold the class or whether he could even pull it off.
He contacted his former boss, who had become secretary to the bankruptcy referee for the Hotel Del Mar, and asked if he could rent the hotel's ballroom for one night. As long as it wasn't too expensive. She agreed to ask around. "Can you afford $3?" she asked him a couple days later.
"I said yes," he remembers, laughing now. Then he raced to Sears.
"I had never been into a Sears store, but they had a phonograph on sale, from $19.95 to $16.95. Then I went to a record store downtown on F Street, they sold used ones, and I bought two Tommy Dorsey records for 20 cents each."
That night, he had 35 students.
Word spread, classes sprouted, and some 45,000 students later, Mr. Benjamin is celebrating over 50 years as a combination Fred Astaire and Emily Post. – from the San Diego Union Tribune, 2/21/2004